This series uncovers ideas and activities from British Council IELTS teaching centres around the world. Read on for four lessons from British Council Vietnam.
IELTS preparation can feel very isolating. Test takers make their way through a mountain of content and practice tests, often alone, in the hope of achieving their goals. After all, what stands between them and their place at university or their dream job overseas is the right band score. But the British Council Vietnam teaching centre in Hanoi takes this isolating and stressful time and makes it a collaborative affair.
The centre offers an IELTS Premium course, a 180-hour program aimed at increasing students' scores by up to 1.5 bands. The program consists of in-class teaching, one-to-one tutoring and at-home usage of Road to IELTS (the British Council's official IELTS preparation program). I spoke with Melanie Harbinson, the IELTS coordinator, about the course structure, the planning process and the student experience. Here are the top four lessons you may want to try in your classroom.
Placement testing
Before any student sets their sights on an IELTS question, each candidate must complete a placement test. The centre will only admit students onto the IELTS course if they score a B1 or higher. The requirement is logical – if students are not ready, they save the disappointment and cost of doing their IELTS test too early. The unsuccessful candidates are recommended additional English classes to improve their proficiency, whilst the successful candidates begin the Road to IELTS familiarisation process.
Familiarisation
Pre-sessional familiarisation with programs can increase students' usage and confidence. As Road to IELTS was totally synced to the centre's IELTS curriculum, it was imperative that students were comfortable using the program from the get go.
Students were assigned three exercises to complete from Road to IELTS before their induction session. After this was checked by administrators, one induction session was dedicated to program familiarisation. This session was conducted in Vietnamese to eliminate any confusion, ensure every student was comfortable with all aspects of Road to IELTS and give students the option to ask questions in their native language.
Personalisation
In their first one-to-one session, students are asked about their motivation for taking the IELTS test. The IELTS tutors found that this became a useful encouragement tool to remind candidates of their goals when their motivation would inevitably ebb during the duration of the course.
The one-to-one sessions also became a useful setting to really establish the candidates' strengths and weaknesses. Most students will happily sit in their comfort zone, spending time on the parts of the test they are already good at. These one-to-one sessions acted as a stimulant where students would have to face the parts of the test they found the most challenging.
Social calendar
The centre aims to keep their program as flexible as possible to cater to every student's needs. They do this in several ways. Firstly, students can choose their program type and length: IELTS coach vs IELTS Premium; 4-month program vs 12-month program. Secondly, students can opt into the social program as much or as little as they like.
Alongside the classes and one-to-one tutorials, the centre hosts social activities students can join depending on their interest and availability. There is a weekly schedule of sessions which include: giving opinions in meetings, cultural misunderstandings, planning a tour and more (see the sample schedule below). The schedule changes weekly and is extremely flexible, allowing all students to participate where they can.
This social schedule is an incredibly compelling part of the program. It facilitates a safe and social environment to practise interesting and unusual aspects of English. Candidates are interacting with others they know are in the same position as them, hopefully removing any embarrassment or apprehension that comes with speaking practice. What's more, these sessions also embody the purpose of the IELTS test – using the English language for practical purposes. Candidates are practising the vocabulary and language they will use when they pass the test and, hopefully, begin to feel confident and comfortable using it.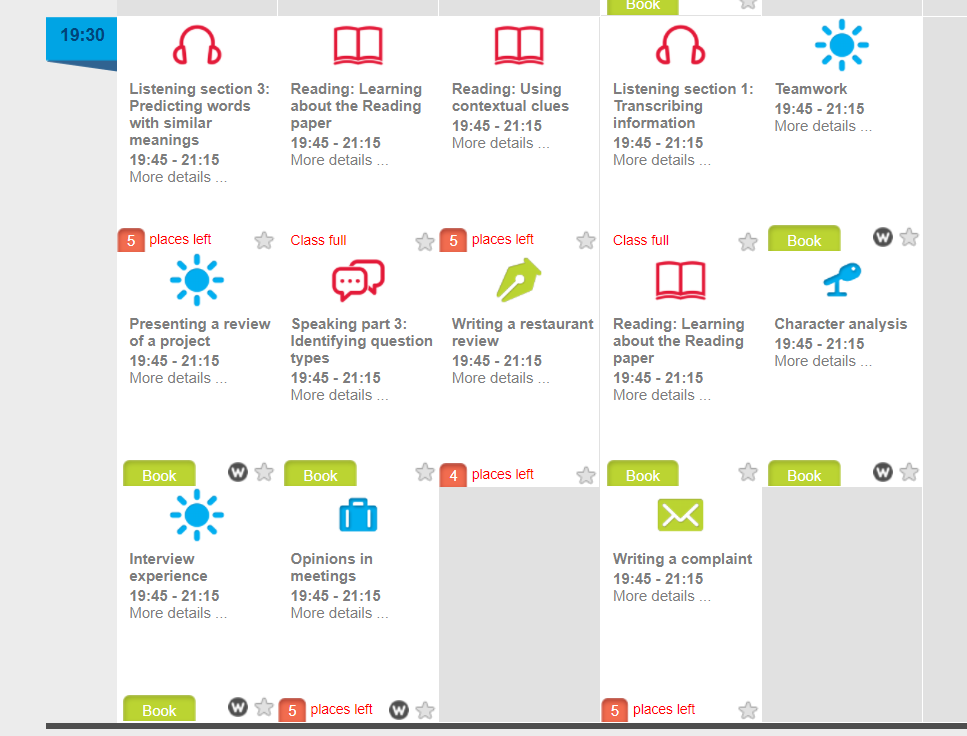 These tasks and schedules are all planned far in advance – that's what makes the British Council Vietnam program a well-oiled machine. Their methods are tried and tested and really worth attempting yourself.
---
I'd like to say a huge thank you to Melanie Harbinson and Hang Duong at British Council Hanoi for taking the time to share their insights for this blog post.
If you have any IELTS teaching tips or experiences you would like to share, please get in touch with editorial@clarityenglish.com – we would love to hear from you.